creative fundraising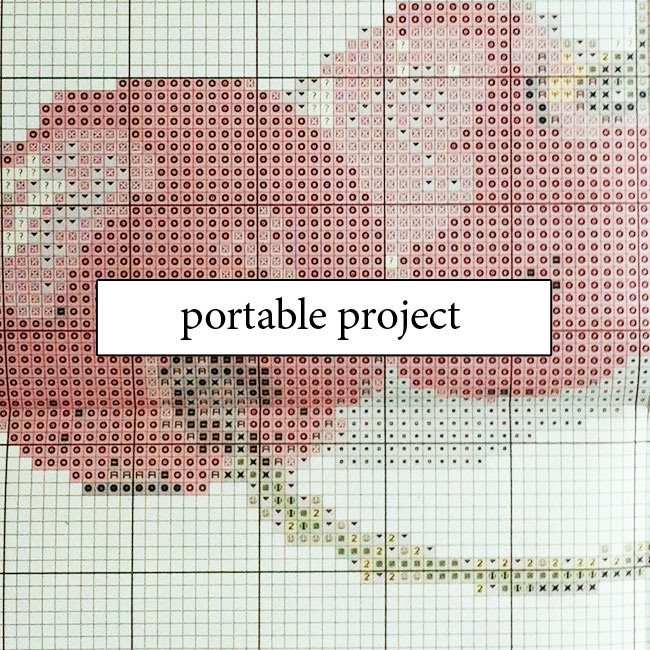 it's here! earlier this year I backed kimberly becker of nine stones needlework and her gorgeous painting-turned-cross stitch project on kickstarter.** it was a no-brainer really. kimberly is a local fine artist (local to me here outside boston - we grew up in the same town) who wanted to combine her paintings and her love of cross stitch and turn them into patterns and kits to create your own needleworks of art. kimberly's kickstarter story was even featured on chronicle magazine last month. my 'cherries' kit arrived last week and I can't wait to get started.
kimberly's motivation is so simple: I believe that we move too quickly through the world and are multi-tasking ourselves to death. 'single -tasking' is a gift. a chance to focus and rest our minds. cross stitching gives us that space and time to focus and make something beautiful with our hands.' she's even included a few reminders on the pattern
honestly, I'm not entirely sure I know how to cross stitch but I'm confident I can sort it out. the summer I was 12, my mother and my older sister and I took some needlepoint classes and we worked to create an 18" x 18" square of different stitches and patterns. I think my sister was the only one of us to finish the needlework and actually had it made into a pillow. I have no idea what happened to mine but I know I didn't finish it (the first of MANY projects...) so I'm really excited to get a second chance of sorts.
** this is my fourth kickstarter backing and I love the idea of crowd sourcing the money to make your big ideas come to life. the guys I work for in my day gig invested in a small team from MIT with a big idea for a 3-D printer - formlabs. the initial investment got the ball rolling and then they went to kickstarter to start production of the printers. they posted their project on september 26, 2012 and "in day 1, met our kickstarter target within 2.5 hours and hit ONE MILLION DOLLARS within 2.5 days" - that's 1000% of their goal in less than 72 hours. they wanted to raise $100,000 and now have just shy of $3,000,000.
what about you - have you backed a project on kickstarter? do you see yourself crowd sourcing on kickstarter to fund your dream? I'd love to hear about them!