holiday how-to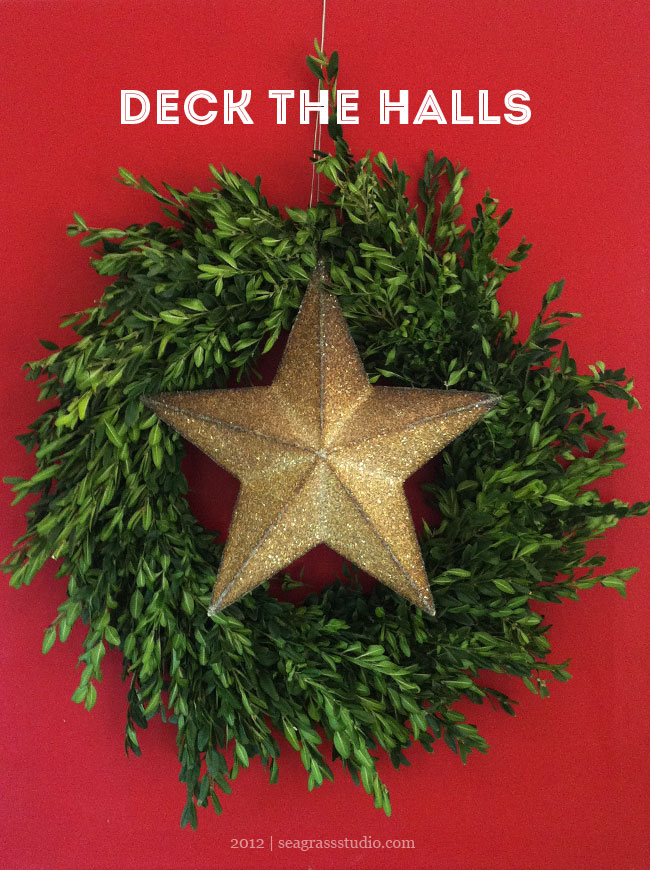 I made this for my entry way - I saw something similar in a magazine from years ago. I'm not really sure why it took me so long to do since it's ridiculously easy and brings me great joy when I walk in my door during the holidays. This can be made in any size imaginable and while I buy a new wreath each year, you could certainly make it perennial with something faux. I switch out a mirror to hang this but it can rest on your mantel or even hang from one of those genius Command hooks from 3M wherever your heart desires.
What you'll need:
blank canvas (mine's 24" x 30")
paint / paint brush (spray paint would work, too)
thin wire (I used 24 gauge - it's easier to hide/harder to see)
wire cutters
wreath (I used a 20" fresh boxwood)
1 screw or nail to secure wreath/wire
decorative embellishment
hanging doodads
Paint your canvas and let dry (duh) then on the back cross bar, place your screw or nail in the center - this is where you'll attach the 24 gauge wire to keep the wreath in place. Measure the distance from the screw to the top of the canvas - multiply by 4 then add 2 inches - cut wire to this length. Find the center of the wire and loop one side around wreath. Hold the ends of the wire together and find ideal wreath  position on the painted side of the canvas - bring loose ends to back of wreath and wrap around screw/nail to secure position. Hang finished canvas where ever your heart desires.
Some pointers - use your Michael's/JoAnn's/Hobby Lobby 50% off coupon from the Sunday circular for your canvas. I used boxwood this year but used balsam wreaths in the past and while I love the look of boxwood I'm missing the smell of fresh pine when I walk in the door - something to think about. My red paint sample tin is Valspar from Lowes but the name is painted over - I think it says 'Fabulous Red'. I found my giant glitter star years ago in Chicago but it could be anything - a big ribbon bow, an initial or monogram, even a silhouette of your favorite photobombing puggle.
While not the best photo I include it here below to show that I've created a monster. She has her own hash tag now but I fully expect her to demand her own instagram account very soon.